Warning
: Undefined array key "ssba_bar_buttons" in
/home/thebru6/fiideas.com/wp-content/plugins/simple-share-buttons-adder/php/class-buttons.php
on line
598
Warning
: Undefined array key "ssba_bar_buttons" in
/home/thebru6/fiideas.com/wp-content/plugins/simple-share-buttons-adder/php/class-buttons.php
on line
598
Warning
: Undefined array key "ssba_bar_buttons" in
/home/thebru6/fiideas.com/wp-content/plugins/simple-share-buttons-adder/php/class-buttons.php
on line
598
Warning
: Undefined array key "ssba_bar_buttons" in
/home/thebru6/fiideas.com/wp-content/plugins/simple-share-buttons-adder/php/class-buttons.php
on line
598
Warning
: Undefined array key "ssba_bar_buttons" in
/home/thebru6/fiideas.com/wp-content/plugins/simple-share-buttons-adder/php/class-buttons.php
on line
598
Warning
: Undefined array key "ssba_bar_buttons" in
/home/thebru6/fiideas.com/wp-content/plugins/simple-share-buttons-adder/php/class-buttons.php
on line
598
Warning
: Undefined array key "ssba_bar_buttons" in
/home/thebru6/fiideas.com/wp-content/plugins/simple-share-buttons-adder/php/class-buttons.php
on line
598
Warning
: Undefined array key "ssba_bar_buttons" in
/home/thebru6/fiideas.com/wp-content/plugins/simple-share-buttons-adder/php/class-buttons.php
on line
598
Warning
: Undefined array key "ssba_bar_buttons" in
/home/thebru6/fiideas.com/wp-content/plugins/simple-share-buttons-adder/php/class-buttons.php
on line
598
Warning
: Undefined array key "ssba_bar_buttons" in
/home/thebru6/fiideas.com/wp-content/plugins/simple-share-buttons-adder/php/class-buttons.php
on line
598
If we had bought our trailer before we retired, we might have been able to break free years sooner.  It reframed our perspective about money and our priorities in life.
Why?  Because so many things about the trailer and the travels have changed our frame of reference.
What was our frame of reference?  Everything was evaluated based on where we lived, how much money we spent while we were working, and trying to get 25 times those expenses in retirement accounts so we could break free.
But it turns out that we were wrong.  We could have retired years earlier.
Let me explain.  Come on.  Let's take a journey.  In our trailer!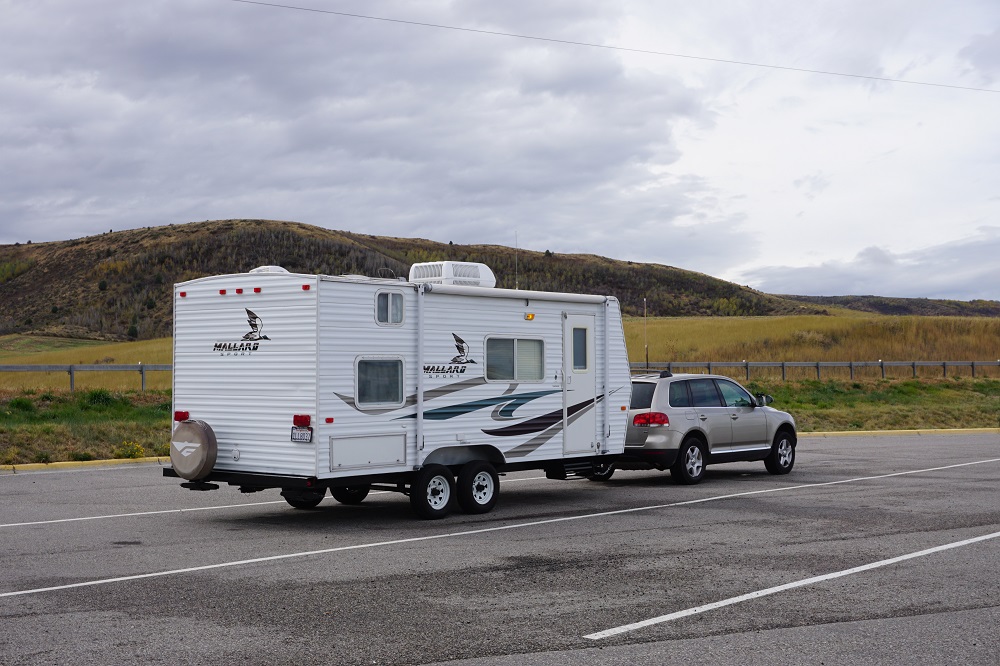 How Do You Get to the "Other Side"?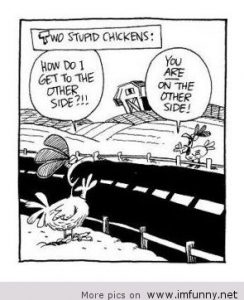 I love this cartoon.  You might already be on the "other side", but you just don't realize it.  Why?
Because of your "WORK" frame of reference.
We didn't know it at the time, but we were experiencing "the Fog of Work".   This fog is described in a great post on The Military Guide blog by Doug Nordman.
For instance, I was working 80 or 90 hours most weeks, which was not only unhealthy, but it got me fired.
Earning high salaries, we would eat out often, take trips abroad, and purchase original art work or other stuff that somehow justified the long hours and relentless schedules.  The treadmill we were on gave us the impression that we would keep spending similarly after we retired.
As we estimated the income we would need to retire, it was based on that lifestyle.  Which really isn't the way we live or think now, some 7 years after breaking free.
I did work in a cubicle though.  A little box.  A cubicle is actually similar to living in a travel trailer.  With one big advantage.  It's on wheels!

Limitation and Constraints Provide Freedom
Maybe you've experienced this when traveling.  You pack your suitcase and check into a hotel or AirBnB.  From then on, you have already narrowed your wardrobe down to a small number of choices.  You are in a small hotel room and the result is what?  Fewer decisions.  A shorter morning routine.  With no reason to hang out in the room, you get out and enjoy your surroundings.
The trailer is like that in so many ways.  First off, our trailer is pretty small, at 8 feet wide and 18 feet long, that's 144 square feet of living space.  When we pull into a camp or RV park, we are often surrounded by huge 5th wheels and bus-sized motor homes.
We didn't try to be minimalists, but ended up selecting our rig size because we could pull it with my husband's 2005 VW Touareg SUV (which BTW, was a huge tax write-off back when I was an independent contractor).  This limited us to a weight range that constrained our search to smaller trailers.
What have we learned by living in a small space when we travel?  Why do we think it gives us more freedom, not less?
Everything is at our fingertips — it's efficient living
Cleaning the entire "house" takes just a few minutes
That bathroom trip in the middle of the night is only 2 steps away
It forces us outside, into nature — forced?  FORCED???
Being Forced Outdoors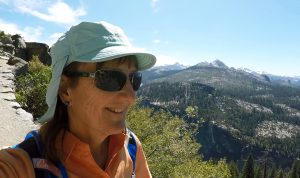 Forced?  Okay, not really.  But as an engineering nerd, I have a habit of being in my office and on my computer for many hours a day.  That's what happens to me in my big house.  But in the little trailer, I'm outdoors the majority of the daylight hours.
I've taken up hiking, particularly in the Sierras, and I like to laugh that I'm becoming Jane Muir.  Not John.  Jane does mostly day hikes, returning at night for a nice homemade meal, a comfy bed, and a warm shower.  Ah, the luxury!
And then there is the camp site itself.  There are campfires.  And people.
When I compare this experience to our home, we find that we barely meet our neighbors.  People arrive at their house exhausted from work and hit the garage door opener, never to be seen again.
And don't get me wrong.  There are a lot of huge RVs that pull in and we never see the people step out.  The big screen TV glows brightly when we walk by, and we wonder why they came.  Is this camping?
But with our little trailer, not only is it small, but it didn't come with a TV.  We never did ever buy one.  Instead, as we wander around camp, we have ended up talking to so many fun people.  I can't count the number of times we have had long conversations with fellow campers, shared a glass of wine or beer, ended up at someone else's campfire, or toured their rig to compare layouts.  The social interaction is just great.
A Change in "Seen"ery
The best thing about a trailer is the variation in landscape.  The view, so to speak.  What it's like in different parts of the country and what it costs.  The new experiences have changed the way we see things.
Let's take gas prices for instance.  Here in Northern California, we not only have huge taxes on fuel, but our special formula makes our price per gallon quite expensive.  Check out this list at Gas Buddy, which confirms what we have seen as we cross the border into another state.  Instead of noticing the "Welcome To" sign, we have been stunned to witness a big neon sign with low gas prices from where?  Another planet!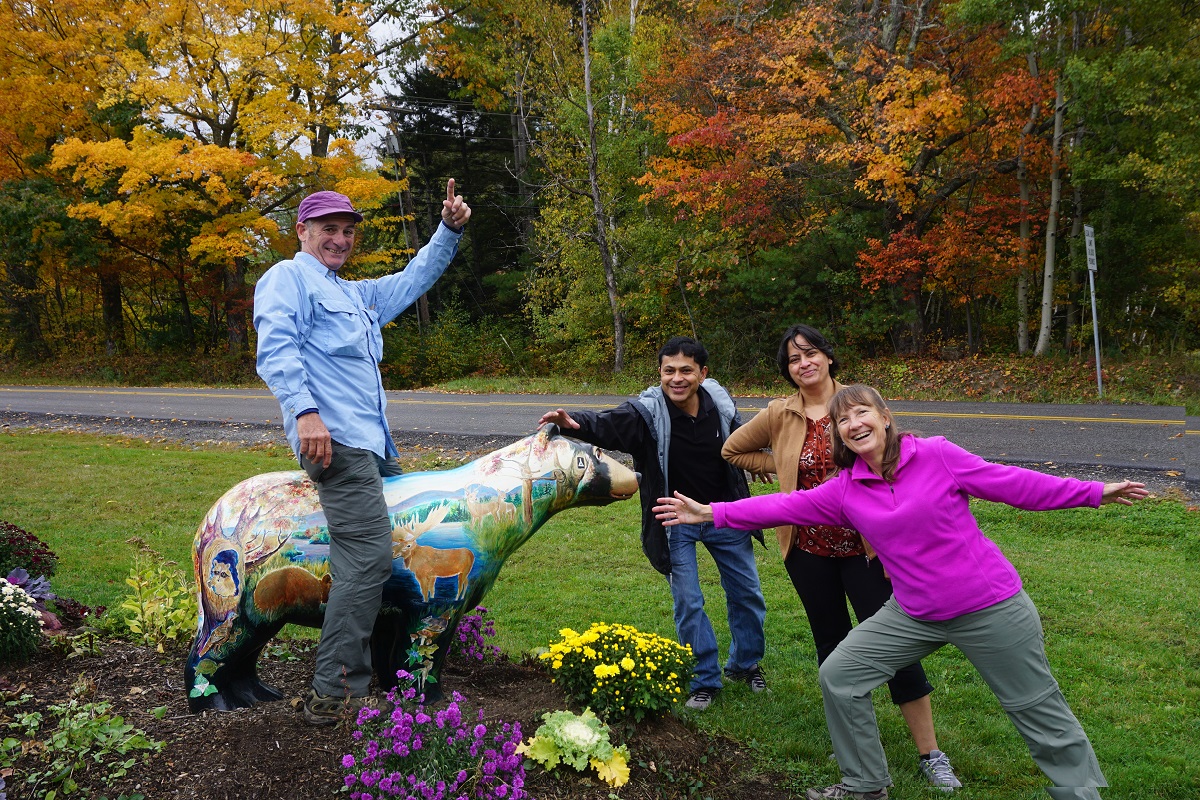 And speaking of life on other planets, meeting people in other states has given us a lot of ideas about possibly moving in the future.  We see how much different traffic patterns are, cheaper grocery prices, and a lot of times, we find that people are friendlier in various slower-moving places.
Sometimes I bring up the Realtor.com app on my phone as we wander through new states or cities, wondering about the home prices.  We've seen firsthand how much cheaper it would be to live.  This post from Accidental FIRE will help you visualize what we have gathered along the road.   It compares median incomes in different states to median home prices.
And if you really want to get serious about geoarbitrage, Mr. Groovy at FreedomIsGroovy has created an awesome calculator, which you can discover right here.  Let that REFRAME your retirement thinking!
Our Refrigerator Cost More Than Our Trailer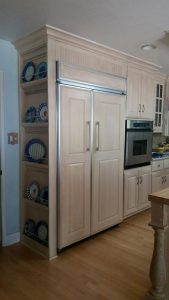 We got a great deal on the trailer.  Yeah, we bought it used, but even for a 5 year old travel trailer, $7999 was a bargain.  It was March and it turns out that a lot of dealerships just want to clear out their lot at that time and bring in the new summer inventory.  Lucky us!
You can see our former "frame of reference" in this photo of our refrigerator.  Which I thought was a frugal win when I found a built-in floor model for around $2000.  Right, until it broke and could not be repaired.
And then we were stuck having to either rebuild our cabinets, bore a hole into the living room, or fork out the money for the new version of this beauty.  With a price tag of $8200!  Which we paid.  Ouch.
And while I'm referencing the Accidental FIRE blog (one of my favorites!), share a laugh with him and read his "Onion-like" news at The Turnip on how these expensive refrigerators keep things "Premium Cold".
The Secret to Life is Camping
Ok, if Rockstar Finance runs a post, can I really call it a secret?  They recently ran this article from Sunburnt Saver titled Nineteen Experts Share Their Top Camping Secrets.  As I read this, I see even more reasons that frugal living is not just possible, but preferable.
For us, we have enjoyed making our own meals, which saves us money and is a lot healthier than the way we might eat from a hotel.  If we stay at an RV park, the cost of water, sewer, electricity, and wi-fi are all included.  Even better, parking on the driveways of family and friends is a great way to visit, but not be in their hair, so to speak.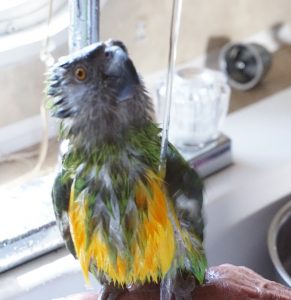 Plus, we take our little parrot with us everywhere we go.
Returning home, we park along the side of the house and this creates a spare room for guests.  Sometimes it doubles as a music practice room or a spare office.  And if we want to cut our air conditioning bill during a heatwave, we can opt for sleeping in the trailer.  There are a lot of possibilities.
We have not yet tried boondocking on BLM land, but if we add a solar panel, that will be another step that shrinks our budget and turns our retirement drawdown strategy into a joke.
Our Drawdown Has Become Zero
Many bloggers joined in on a "chain gang" of posts on the topic of drawdown strategy, which began with the PhysicianOnFIRE and now has 21 articles and counting.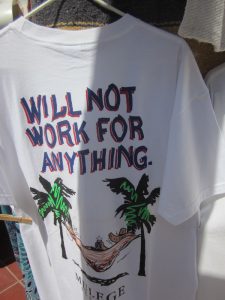 Before we retired, we planned for a drawdown of 70K per year from our retirement accounts.  But we've changed since we've left work.  We now put so much more value on experiences rather than stuff.  Trimming things down has become easier and easier, partly because of our new trailer mentality.  It's a different perspective.
So with my husband's small pension along with my foreclosure real estate investment, coupled with the desire to get our income low enough for an Obamacare subsidy, we find ourselves drawing nothing from our retirement accounts.
Nothing!  Zilch. Zero. Nada.
Now our biggest problem will be when we reach 70.5 years old and have to start Required Minimum Distributions.  Or hopefully, as we learn to think more "Inside The Box" like this, we can lower our annual expenses even further and do some Roth Conversions.
Oh the problems we could have avoided if had just sampled this lifestyle earlier.  And realized that we can live large, and do that small.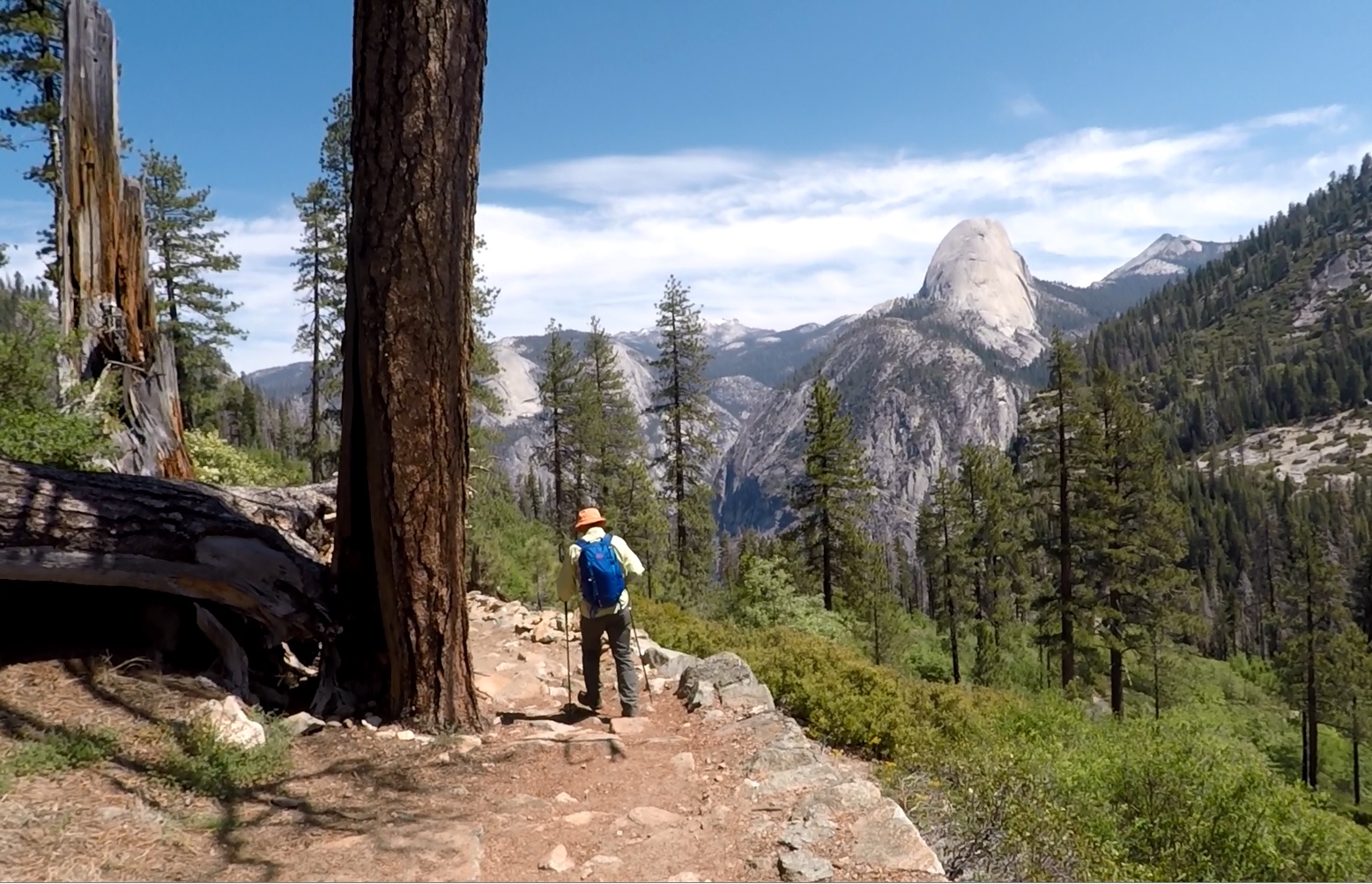 P.S.  It has taken me a while to publish this post.  Another side effect of the trailer mentality!
What do you think?  Could you retire earlier if you bought a travel trailer?  Is there something similar that you've experienced that has changed your "Frame of Reference"?