Warning
: Undefined array key "ssba_bar_buttons" in
/home/thebru6/fiideas.com/wp-content/plugins/simple-share-buttons-adder/php/class-buttons.php
on line
598
Warning
: Undefined array key "ssba_bar_buttons" in
/home/thebru6/fiideas.com/wp-content/plugins/simple-share-buttons-adder/php/class-buttons.php
on line
598
Warning
: Undefined array key "ssba_bar_buttons" in
/home/thebru6/fiideas.com/wp-content/plugins/simple-share-buttons-adder/php/class-buttons.php
on line
598
Warning
: Undefined array key "ssba_bar_buttons" in
/home/thebru6/fiideas.com/wp-content/plugins/simple-share-buttons-adder/php/class-buttons.php
on line
598
Warning
: Undefined array key "ssba_bar_buttons" in
/home/thebru6/fiideas.com/wp-content/plugins/simple-share-buttons-adder/php/class-buttons.php
on line
598
Warning
: Undefined array key "ssba_bar_buttons" in
/home/thebru6/fiideas.com/wp-content/plugins/simple-share-buttons-adder/php/class-buttons.php
on line
598
Warning
: Undefined array key "ssba_bar_buttons" in
/home/thebru6/fiideas.com/wp-content/plugins/simple-share-buttons-adder/php/class-buttons.php
on line
598
Warning
: Undefined array key "ssba_bar_buttons" in
/home/thebru6/fiideas.com/wp-content/plugins/simple-share-buttons-adder/php/class-buttons.php
on line
598
Warning
: Undefined array key "ssba_bar_buttons" in
/home/thebru6/fiideas.com/wp-content/plugins/simple-share-buttons-adder/php/class-buttons.php
on line
598
Warning
: Undefined array key "ssba_bar_buttons" in
/home/thebru6/fiideas.com/wp-content/plugins/simple-share-buttons-adder/php/class-buttons.php
on line
598
Have you traveled halfway across the world to have an exotic adventure?  Do you ever wonder if you could have that same experience in your own backyard?
Over the last month, I've been eavesdropping on Miss Mazuma's awesome road trip.  As a travel enthusiast, I get so excited seeing pictures and hearing about the journey and discoveries that people make when they venture out into the unknown.  And I'm not the only one.  Tonya at Budget and the Beach enjoyed it so much she made a video about it.
A lot of people who are pursuing financial independence dream of a future filled with travel adventures and exploring.  But it can be so expensive.
Matt and I have been lucky enough to have taken some incredible vacations all over the globe.  Mostly during the years before we hunkered down and really got serious about early retirement.  We honeymooned in New Zealand, rode bicycles in Burgundy, and practiced Tai Chi in China.  Heck, Matt and I first met at work because I wanted to see his photos when he returned from running a marathon in Germany.
But, in spite of how awesome these trips have been, each time we came back from a fun and exotic place, I would look around and wonder.
"Hmmm – I think I could experience that right here in Stockton!"
What?  Stockton?  A place reknown as The Most Miserable City in the USA.  Stockton made the list so many times that our city organizers started a campaign against Forbes and have embarrassed them to lay off us for a while.  But as the people at Forbes know, Stockton isn't usually on people's short list of dream vacation spots.
And yet, I actually put this idea in practice by creating a local radio show called "Travel the World, Stay in Stockton".
Yes you read that right.
I Hosted a Local Radio Show, "Travel the World, Stay in Stockton"
How did that happen?  It's one of those things that I stumbled into as I've explored financial freedom.
Oh, don't get overly impressed!  Let me explain.
In the seven years since I quit my job, my approach has been about discovery.  I like trying new things, being out of my comfort zone, and doing completely different projects every six months or so.  I particularly love it when one adventure leads to another, and I find myself doing something unplanned.
I'm not voice trained and I have no skill that would make anyone decide to pick me for this type of gig.  But I found myself "volunteering" when I was taking a class at our community college.  I was there to learn some tips to improve the sound tracks for my fun video hobby.  And the next thing you know, our instructor was nudging each of us to be on the new radio station he just launched.  Nudging meaning that we would be on the radio or we would fail the class!
Sometimes You Need a Little Nudge
Yeah, he made it a course requirement.
At first I was looking for a way to minimize this part of the class.  But when I paired up with Evelynn, a 20 year old student with a dream of a career in movies, we hit it off right away.  There was a natural chemistry between us, which turned out to be great when we went on air.
We started out by brainstorming all sorts of possibilities.  What type of radio show might interest people in Stockton?
I decided to share this idea I've had rolling around in my head every time I came back from one of my foreign trips.  As I started telling her stories of various places Matt and I had traveled to, we ended up connecting them to different things in Stockton.  The next thing you know, we were jotting down places we could go and things we could try.  From ethnic restaurants and festivals, martial arts, cultural museums, churches, to local musicians – the list grew quickly and we felt a spark of enthusiasm that moved us forward.
It's not a Staycation, It's Travel
Sometimes you hear people refer to taking a "staycation".  The word "stay" is just not right.  Yes, it is really a frugal way to save money on this year's vacation.  But what I'm talking about here is so much more.
What is the difference between vacation and travel?  Adam at Minafi recently wrote a post explaining ways to characterize these two concepts.  He included this quote from an episode of the show Departures, available on Netfix:
"Vacation is a way to unwind and give yourself a break. Travel is a way to challenge yourself to explore."
Have you ever challenged yourself to explore the place where you live?
If you are like most people, you joke about going to see the sights nearby only when someone from out of town comes to visit.  But why not find out a little bit more about what is right around the corner.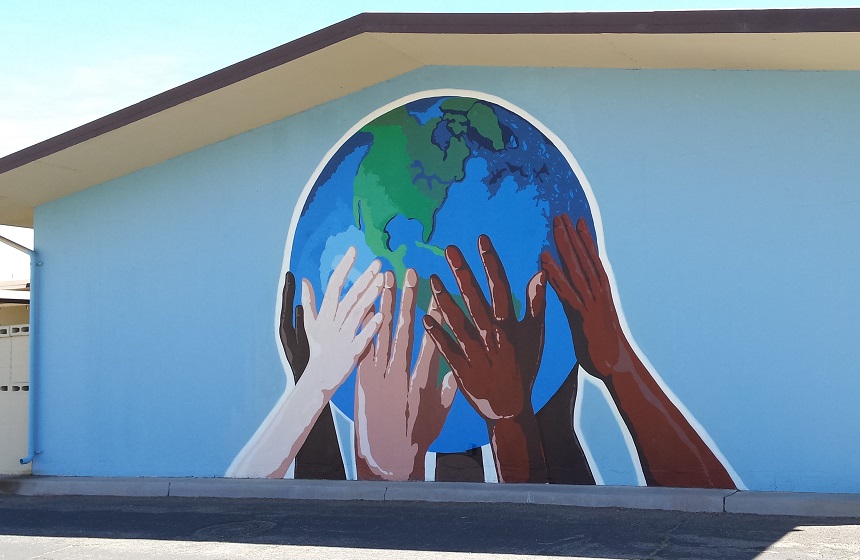 Stockton is One of the Most Diverse Cities on Earth
Our city is a melting pot of people from all over the globe.  Many different waves of immigrants have chosen to settle here over the years.  And it continues to attract people from all across the world.
That diversity was the inspiration for this cool mural, which I found doing a radio segment on the public art of Stockton.  I had such a blast that day, going to a lot of places I had never been before.  And I have lived in Stockton my entire life.  It's hard to believe that it took a show like this to get me out there exploring.  Especially because I absolutely love travel and discovering different how different people live.
One of my favorite adventures happened one block away from my house.  ONE BLOCK!  Every day I would drive past the Shiva-Vishnu Hindu Temple being built right around the corner from our house, and yet I knew absolutely nothing about it.  Even its name!  So when Evelynn and I decided to focus on Indian culture for our weekly show, I found them online and emailed to see if I could interview the Temple Priest.
I got a great response because apparently that email address is shared by all the board members.  Ten people replied!  Right away, they were enthusiastic and welcoming.  I arranged for the interview and they invited me to attend their Sunday service, which just happened to be an event with singing and food.  I decided to walk over there – it was that close.
Truly an Exotic and Foreign Experience
It was hard to imagine and a little scary when I first walked in the door.
First they asked me if I'd like to have the dot on my forehead.  Okay forgive me here.  I'm just going to describe this from my uninformed, beginner perspective.  I said yes and I got "dotted".  Cool, huh?
Then I watched them light a fire and chant around it.  A fire in a church service?  Wow.
They were singing in another language — such beautiful music.  One vocalist was a young girl in her early teens with such a wonderful voice.  They let me record it and use the music on our show.  I saw an incredible altar with a variety of colorful deities and the next thing I knew, people were bringing all of their various potluck items up and surrounding the Gods with their food offerings.  And even better, the deities were kind enough to share with everyone!
It was surreal.  I don't think I've ever experienced anything like that before.  And here I was, just down the street from where I live.
If I had a postcard, I might say.  "Having fun, wish you were here".  But the whole point of that I'm trying to make is….
There Is Not Better Than Here
There is a book I've had around for ages, called If Life is a Game, These are the Rules.  I found an excerpt of the section called "There" is no better than "here".  It gets you thinking about why you might just find some of the greatest things in life right here and right now.
If you allow yourself to be in the present.  And explore what is right around the next corner.  Just like I did.
For instance, I was reading a post at Freedom is Groovy, called Tips for a Great Vacation.  In it, Mr. Groovy recommends doing at least one weird thing when you are visiting a new city.  He suggests googling something such as "weird Atlanta".
I thought, hmmm, what if I google "weird Stockton".  And I got a hit that is close to my house.  Something that is truly odd and fun and exciting too.  Here you go, check out this article about the Windmill Ranch just up the road from my house.  As author Barbara L. Steinberg says, it will "blow you away"!

What About Your City?
I mentioned Tonya at Budget and the Beach.  A recent guest post was about just this sort of thing.  Titled "25 Things to do in Los Angeles for $25 or Less", it has a great list of ideas for exploring and not breaking the piggy bank.
It's an interesting coincidence, but on that list is The Mural Conservancy of Los Angeles.  It turns out that when I was on the radio show, we highlighted an art exhibit that brought paintings from L.A. muralist Judy Baca, whose work is featured there.  What a small world, right?
I realize that many of you might live in rural places or smaller towns.  But I'll bet you have something interesting and unique.  Maybe something you haven't realized is there.  Maybe even something "weird"!
So tell me, do you really have to go halfway across the world to have an exotic adventure?  Or could you do it in your own backyard?