Warning
: Undefined array key "ssba_bar_buttons" in
/home/thebru6/fiideas.com/wp-content/plugins/simple-share-buttons-adder/php/class-buttons.php
on line
598
Warning
: Undefined array key "ssba_bar_buttons" in
/home/thebru6/fiideas.com/wp-content/plugins/simple-share-buttons-adder/php/class-buttons.php
on line
598
Warning
: Undefined array key "ssba_bar_buttons" in
/home/thebru6/fiideas.com/wp-content/plugins/simple-share-buttons-adder/php/class-buttons.php
on line
598
Warning
: Undefined array key "ssba_bar_buttons" in
/home/thebru6/fiideas.com/wp-content/plugins/simple-share-buttons-adder/php/class-buttons.php
on line
598
Warning
: Undefined array key "ssba_bar_buttons" in
/home/thebru6/fiideas.com/wp-content/plugins/simple-share-buttons-adder/php/class-buttons.php
on line
598
Warning
: Undefined array key "ssba_bar_buttons" in
/home/thebru6/fiideas.com/wp-content/plugins/simple-share-buttons-adder/php/class-buttons.php
on line
598
Warning
: Undefined array key "ssba_bar_buttons" in
/home/thebru6/fiideas.com/wp-content/plugins/simple-share-buttons-adder/php/class-buttons.php
on line
598
Warning
: Undefined array key "ssba_bar_buttons" in
/home/thebru6/fiideas.com/wp-content/plugins/simple-share-buttons-adder/php/class-buttons.php
on line
598
Warning
: Undefined array key "ssba_bar_buttons" in
/home/thebru6/fiideas.com/wp-content/plugins/simple-share-buttons-adder/php/class-buttons.php
on line
598
Warning
: Undefined array key "ssba_bar_buttons" in
/home/thebru6/fiideas.com/wp-content/plugins/simple-share-buttons-adder/php/class-buttons.php
on line
598
"When You're Going to San FranciscoSacramento, Be Sure to Wear a Flower in Your Hair"!
I'm so stoked.  Friday night we gathered for the first meetup of our local Sacramento ChooseFI group.  Yeah!  It was at a brewery and we'd never met before.  I wondered before I left the house.  How will we recognize each other when we get there?
I checked Facebook before I left and no one mentioned that part.  So I thought, hmm, what about if I take out that crazy flower on my head thing I made a while back for a restaurant reunion of old classmates.  Hey, yeah.
"You'll recognize me, I'll be the one with the flower in my hair!"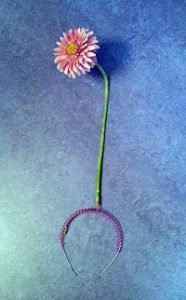 That's what I had told my classmates, but the ChooseFI group didn't have any "HEAD'S UP" (pun intended!) that I'd be wearing it.
That's ok, because in my world, standing out is something I've come to embrace.  So yeah, maybe I should bring it.  My flower is attached to a headband and rises 2 feet above me. I'm only 5'2″ and I like to think it makes me look taller.  🙂
Would that be too weird of me for a first meeting?  I was thinking about that when I caught the Monday episode #59 on the ChooseFI podcast.  It's a really motivating interview with photographer Vincent Pugliese, author of the recently released book "Freelance to Freedom".  After I listened to that podcast, I decided to follow through on the actionable tip and bought the Kindle book.  I have only read the first page so far, but it has a great quote that made me want to go ahead and wear that flower:
The secret of happiness is freedom. The secret of freedom is courage. —Thucydides
Courage.  That has come up in several posts in the FI community and my favorite is from Fritz at the Retirement Manifesto, entitled "Living Life at the Limits".  Fritz asks us readers:
"What have you done to Expand Your Horizons — to Push Your Limits — to Live Life?"
Important ingredients in this life, pursuing Financial Independence.  Don't you think?
So, of course I had to wear the flower.
Why am I going drive almost an hour to a ChooseFI meetup when I'm already FI?
For me, the answer to this is explained a bit in this post from Tonya at Budget and The Beach.  It's called "The Wheel of Life".  Here's the comment I made:

Connections.  Yes.  As I've discovered people in this arena, I feel I'm finding my tribe.  I believe that each of us has a desire to talk to people about opportunities and to be around others who are excited to learn how to leverage these ideas in their own lives.. Being around people who are enthused, rather than confused, about financial independence is something that motivates me.
And with that, off I went, into the crazy Friday commute, just like I used to do when I was busy working and driving hundreds of thousands of miles as part of the rat race — oh, and speaking of the rat race, check out this animated video called "Happiness" posted by Accidental FIRE.  Talk about the need to get off the hamster wheel.  Whew!
The Meetup Was Great
It turned out to be such a wonderful gathering.  Probably about 15 or 20 of us were able to show up, nearly half of our current membership.  There are so many things to tell.  These are the highlights of the evening, which I'll explain in a little more detail as we go.
Money nerds love beer
We're a really diverse and inclusive group of people
You can ask someone you just met about their finances
We had a "six degrees of Kevin Bacon" experience
There were two celebrities in our crowd (at least!)
People are a "wealth" of knowledge
I'm so thankful to have a local group
It was so much fun.  So let's get into the nitty-gritty here.
Money Nerds Love Beer!
First, there's some wisdom on those glasses.  I don't even drink beer, but I have learned a lot about life from it.  (Note in case you might mischaracterize me — I LOVE wine!).  I was telling Dean, one of my new Sacramento FI friends, that I once took a job just because they had beer in the fridge for after-hours work.  I knew I'd love working at a place that free-thinking.
But as for beer and FI, what can I say?  I'm pretty new to this community and although this was my first meetup with fellow FIRE enthusiasts, I've read a lot of blogs and beer seems to be the main "ingredient".  So of course our first meetup was at a brewery.
What was cool about this place was that it also was inviting to families with kids and dogs.  Everyone was was welcome, not just beer lovers.  The other thing that made it a great choice for us was that you could bring in your own food.  We're all so frugal!
A Diverse and Inclusive Group of People
People started arriving from all walks of life.  We appeared to be quite different by age, race or clothing (yeah, I was still wearing that flower on my head).  Under other circumstances, we might have never met up.  Let alone start chatting like we already know each other.  Right away, people seemed at ease with conversation and really upbeat and positive.
It was fun to be able to…
Ask Someone You Just Met their Net Worth 😉

Yes, just like that.  OK, I'm exaggerating.  Most people don't want to share actual numbers.  But people were really open.  Money is such a taboo topic in our society.  But with a group like this it is totally cool.
People started sharing their stories, talking about whether they were focused on tax-free or taxable accounts, telling about real estate ventures, pension worries and their jobs.  I was really taken by the interesting life stories of different people at a variety of ages.
One story that I found impressive was a younger woman telling how she got bitten by the FI "bug".  It started for her as a desire to help her Mom, who found herself forced into an unplanned "retirement" after a health issue.  Wanting to find ways to think outside the box, the daughter launched into internet searches and went down the rabbit hole which led to this whole FI movement.  And even though it turned out that her Mom was slow to take some of the advice of money experts, this young woman got inspired onto a path that is changing her life.  What a thrill to talk to someone under 30 years old with that much of a head start.  And all because she wanted to help someone.
Six Degrees of Kevin Bacon
It turned out that we had something else in common.  Something that makes you amazed that this is such a small world.  When I heard she was from a town in the middle of nowhere called Ballico, California, I had to ask — did you play Taiko drums with Chris and Dan Kubo?  And her face lit up.  YEEESSSSSS!!!!!!
Ever heard of "six degrees of Kevin Bacon"?  It's the theory that nobody is more than six relationships away from any other person in the world.  I actually participated in a study done for the Taiko world when I was attending the North American Taiko Conference, where several groups of strangers across the world linked themselves together in less than six connections.  And coincidentally, my connections to everyone else went through Chris and Dan Kubo, who teach taiko to all the kids who grow up in Ballico.  Which is, like I said, in the middle of nowhere.  And now it happens again!  Amazing.
So of course, we became fast friends.  We did not have time to link ourselves to Kevin Bacon though.
But speaking of celebrities…
Celebrities Among Us
Turns out that one of the attendees was just on local television.  A new TV star in our midst.  And all because a film crew took quotes from different employees where he works and they loved his soundbite.  So he's famous now.  At local TV Star, right?  We were impressed.
But being on television isn't as impressive as what we discovered next.  One of our local members had gone to the 2016 Chautauqua in Ecuador.  And he is friends with Mr. Money Mustache!!!  Now that is a celebrity in our world.  He even showed us a photo of MMM punching him in the face.  It's ok, it was posed.  And hilarious.
You'll see Anirudh from our group in the slideshow that Alan Donegan posted of the experience.  (Ok Ani, I know I put smiley faces over everybody in the group photo, but Alan has you named in that slideshow.  So hey, you're public, man!)
OK, I admit it.  I'm an FI groupie. 🙂
People are a "Wealth" of Knowledge
I learned so much chatting with fellow finance lovers.  For example, I got a tip on a podcast I had not heard of yet, from the organizer of FinCon. It's called  Masters of Money by Phil Taylor.  I'm just starting to listen to it now.
We talked about the stock market, retirement dates, careers, and how you can learn anything watching YouTube.  And why does anyone have student loan debt if that's so?  The conversations were all over the place.  And because such a large number of us are (or were in my case) engineers, we could launch into topics like software coding with ease.
I found myself being a resource for how to find an RV park in our area.  One of our newest members is moving to the area for four months and needed a head's up on a possible place to park the rig for a while.  My husband and I have done a lot of trailer trips since we quit our jobs, so we have first-hand experience with places nearby.
And we also learned that….
Cash Flow is a Board Game
There was another financial group who were meeting at the Brewery that night.  An interesting coincidence, this other group of people were there to play board games.  And not just any board game.  But the game invented by Robert Kiyosaki of Rich Dad, Poor Dad fame.  It's called "Cash Flow".
It was hard to believe that two groups like ours picked the same small brewery to meet up.  They were asking all about what the ChooseFI group was.  I ended up talking with both of their organizers.  It seems they have a for-profit club that helps people learn about real estate and investing.  It was cool to exchange information and get their business card.  They seemed to have a lot of experience and were fun to chat with.
With two groups meeting at the same time like this, you have to believe that the "FIRE" is spreading my friends.
I'm So Thankful to Have a Local Group
The evening was great.  Everyone stayed longer than our two hour window for the meetup.  Even the folks with a toddler.  It was a really nice start considering we just met.  I feel so thankful to have this opportunity.  I want to thank Brad and Jonathon for creating the Facebook group and then spearheading the formation of all of these local subgroups that are just now gaining ground.
If you don't have a local group near you, or you're not sure, you can search or form one of your own here.
Let's All Sing Along Now
Let's all sing along to that song "San Francisco".  Everybody join in!  It's Groovy.  Almost as groovy as Freedom is Groovy!
Gentle people with flowers in their hair
All across the nation
Such a strange vibration
People in motion
There's a whole generation
With a new explanation
People in motion
People in motion
If you come to San Francisco Sacramento
Summertime will be a love-in there
Don't you see how those lyrics are actually now true of this FI movement?  All across the nation, a new generation, people in motion.  Yes, people in motion!

 
If you are new to all of this, check out my Discover page and explore the possibilities.
What say you?  Have you had a chance to join a local ChooseFI Facebook group?  Tried a meetup yet?  How about another great gathering like FinCon, Camp FI or a Chautauqua?  I'd love to hear all about it.  We all would!